St. Patrick's Day in China 🍀 Your Complete Guide
St. Patrick's Day in China – The Complete Guide + Useful Vocabulary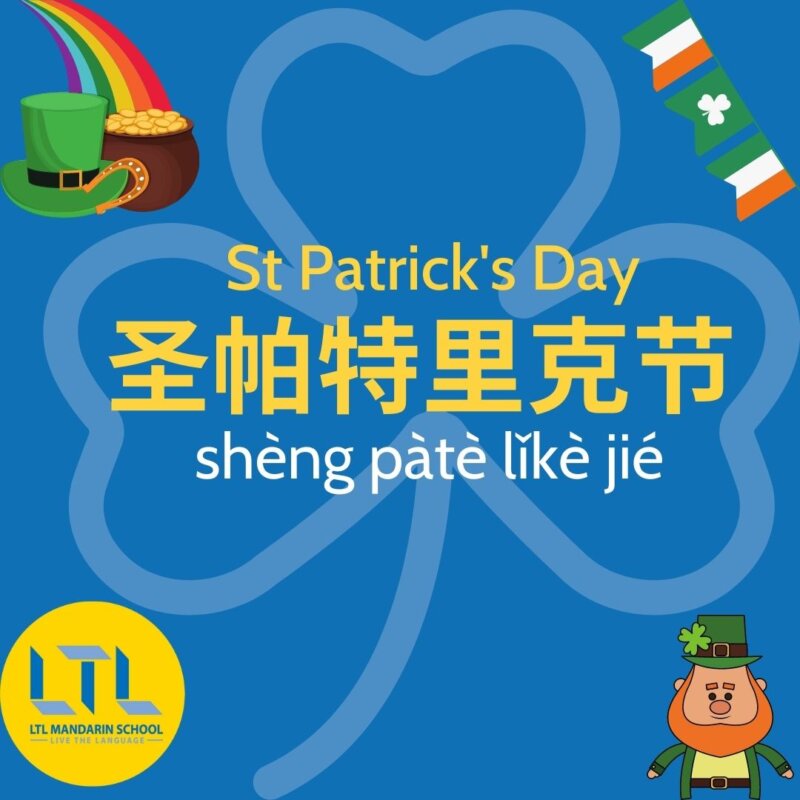 In this complete guide you will be learning all about St. Patrick's Day in China!
How this historical day came about and how to say Ireland in Chinese along with plenty of other vocabulary.
I'm sure the question on your lips is… Do Chinese people celebrate St. Paddy's Day?
A few years ago, the answer to this question was a definite no, but in the last few years, probably due to its consumerist trend, Christmas in China has become as popular as Halloween in China!
Let's dive in!
St. Patrick's Day in China | Why we celebrate it?

St. Patrick's Day in China | History

St. Patrick's Day in China | Irish Symbols and Traditions

St. Patrick's Day in China | Useful Vocabulary

St. Patrick's Day in China | China's Celebration

St. Patrick's Day in China | FAQ's
Why We Celebrate it?
ST. PATRICK'S DAY is a cultural and religious holiday held annually on March 17 – the day the Patron Saint of Ireland died.
The day celebrates Irish heritage with food, parades, drinks, Irish folklore, and an assortment of green-coloured things—green beer, anyone?
St. Patrick's day started as a minor religious holiday in 1631.
St Patrick's Day in Chinese is – 圣帕特里克节 (shèng pàtèlǐkè jié)
The church declared it a feast day; the pubs were closed and religious observers went to church.
But it slowly evolved into a secular holiday in the 1700's when Irish immigrants in the US held some of the first St. Patrick's parades.
Back then the parade symbolized patriotism.
It wasn't until the late 20th century that these celebrations really kicked off!
With the repeal of the law that initially kept pubs shut down for the day and the realization that this day could attract many tourists, today, March 17th is a celebration that has become widespread!
Did you know that in the U.S. millions of Americans of Irish Ancestry celebrate their identity and history by enjoying St. Patricks Day parades!
St. Patricks Day History
Saint Patrick is the patron saint of Ireland and every year on the 17th of March Irish people all over the world have a huge celebration in his honour.
Today, it is a holiday that celebrates everything Irish! Here's a brief overview of its history.
Bonus Fact: Do you know how to say Ireland in Chinese? – its 爱尔兰 (ài'ěrlán)
The Story of St. Patrick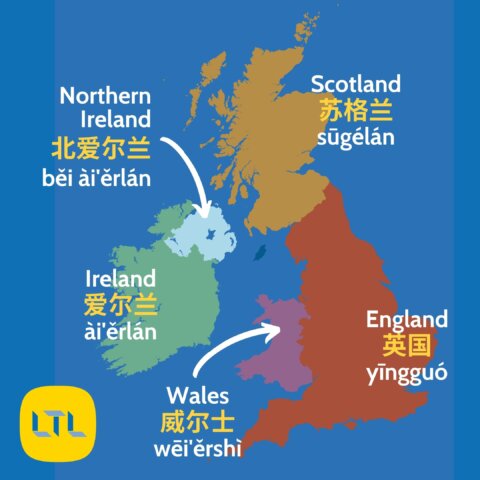 He was born in Wales which is just across the sea from Ireland.
In Year 373AD, the Romans still ruled that part of the world.
Many of the people in Wales and Ireland were Druids who worshiped the Sun and other aspects of nature but Patrick was a Christian.
When Patrick was 16 years old he was walking along the beach when some pirates seized him and took him to Ireland where he was sold as a slave to work in the fields.
One day he heard God telling him to escape and he ran down to the sea where he found a ship waiting to take him home to Wales.
When he was was a grown up he heard a voice calling on him to return to Ireland and tell people there about Christianity which is what he did.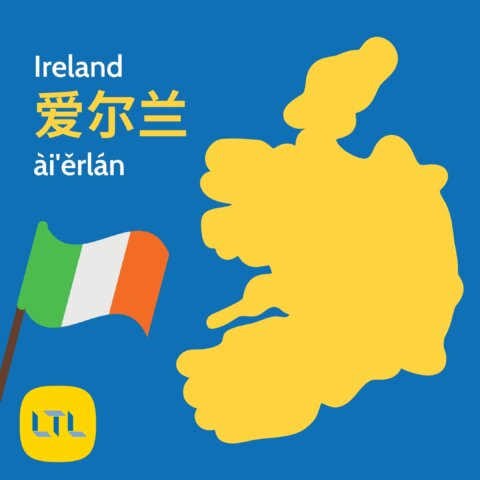 Patrick travelled the length and breadth of Ireland and had many adventures while he spread his message.
Quite often the Druid priests were very angry with him for telling their followers to change their religion.
Thus, his life was always in great danger!
Ireland is a very rainy country and the fields are emerald green.
One of the most common things that grows among the grass is the Shamrock – its like a small clover with three leaves.
St Patrick used to pick the Shamrock and explain that the three leaves were the three aspects of God:
Father
Son
Holy Spirit
DID YOU KNOW? He is also famous for driving all the snakes into the sea so that to this day there are no snakes lurking in the grasses of Ireland. The Shamrock and the snake are the most famous stories about St Patrick!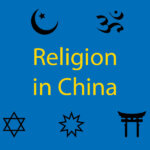 Definitive Guide to Religion in China 🌏 What Are The Most Followed Religions Worldwide?
China Religion – You'll find a lot of religions have passed through China from time to time. Follow our Ultimate Guide to Religions in China.
Irish Symbols and Traditions
Shamrocks 🍀
The most common image of St. Patrick's Day is the Shamrock – the national emblem of Republic of Irelands.
Shamrock is 三叶草 (sānyècǎo)
In the early days of Ireland the Druids, believed that the three leaf clover or shamrock could ward off evil spirits.
As mentioned, the Shamrock is the symbol of Holy Trinity and it is the leaf of the clover plant.
FACT | A four leaf clover is a symbol of luck! – this leaf is very rare and hard to find and was used as a Celtic Charm to ward off bad luck!
Leprechauns 🌈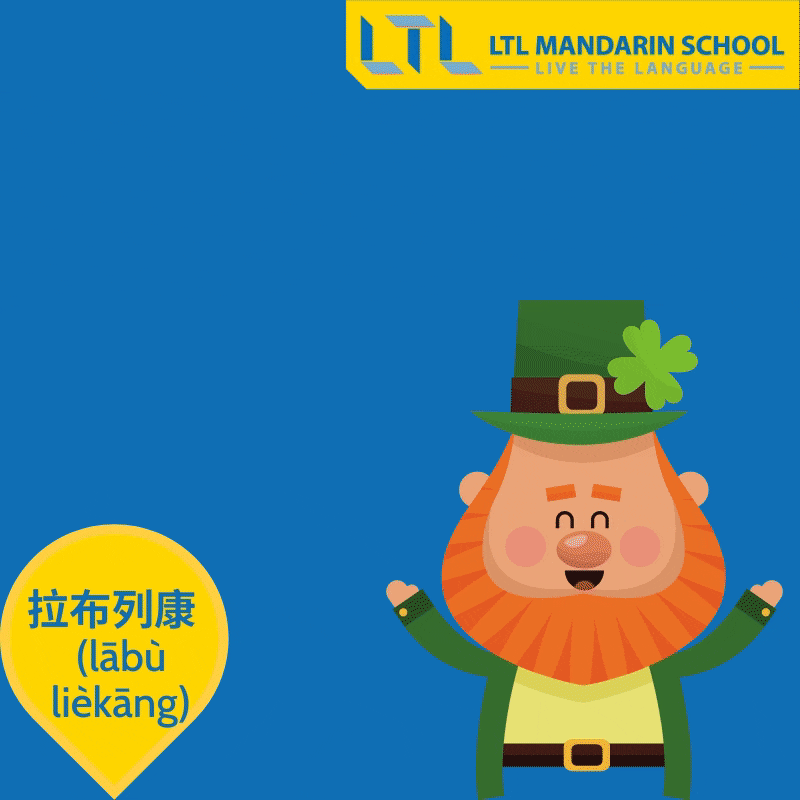 The second common symbol of St. Patrick's Day is the leprechaun.
Leprechaun is 拉布列康 (lābùlièkāng)
A leprechaun is a mythological creature!
An Irish Fairy which originates from Irish folklore and mythology.
These red bearded fairies are often depicted in a green coat and hat, and are seen with a pot of gold at the end of a rainbow.
Often characterized as shoe makers, they are said to mostly keep to themselves, but are mischievous and enjoy playing jokes on people.
FACT | Legend says that if caught by a human, a leprechaun will grant three wishes in exchange for their freedom.
The Colour Green 💚
As I'm sure you have probably has observed, Irish people wear Green on St. Patrick's Day Parades.
Ever wondered why?
Well, first of green is one of the three colours in Ireland's flag.
Furthermore, according to some scholars, the colour green become popular with Ireland and St. Patrick's Day during the Irish Rebellion in 1798.
During the rebellion – Irish soldiers chose to wear green! Apparently they sang the song – "The Wearing of the Green"
Did you know that before then, Ireland was known for the colour blue since it featured prominently in the royal court and on ancient Irish flags.
But there are other reasons too!
According to Irish-American folklore in the early 17th century, people thought that wearing the colour green made one invisible to the leprechauns.
There is a common saying amongst the Irish:
If you forget to wear green on St. Paddy's Day – don't be surprised if you get pinched!
Back in the olden days, people believed that leprechauns and fairy creatures would pinch anyone who didn't wear green!
Another possible reason as to why people favour the colour green is because Ireland is nicknamed the "Emerald Isle".
This is due to its lush, green landscape – which to this day is something quite spectacular!
Food – What to Eat? 🥩
Millions of people will sit down to an authentic meal of corned beef and cabbage along with potatoes! (a staple food of the Irish diet)
FACT | Corned beef and cabbage is an Irish-American dish
Some other authentic Irish recipes include:
Lamb and Sweet Potato Shepherd's Pies
Irish Lamb and Turnip Stew
Irish Soda Bread
Boxty (Potato Pancakes)
Colcannon (Mashed potatoes with cabbage & kale)
Bacon & cabbage
Shepherd's pie
Irish fruitcake
Shellfish
Champ (Mashed potatoes)
Got any more we'd love to hear – comment down below!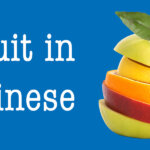 Your Complete Guide to Getting Fruity in Chinese 🍓
Learning fruit in Chinese? Check out this mega list of Chinese fruit. Plus simple flashcards to help you learn quickly. Check how to say your favorites!
Useful St. Patrick's Day Vocabulary
We've already learnt how to say Ireland in Chinese but let's learn a few more words so you can celebrate St. Patricks Day in China…
| English | Character | Piyin |
| --- | --- | --- |
| A pot of gold | 一桶金 | yī tǒng jīn |
| Beer | 啤酒 | pí jiǔ |
| Bagpipe | 风笛 | fēng dí |
| Bar | 酒吧 | jiǔ bā |
| Green | 绿色 | lǜ sè |
| Guinness | 吉尼斯 | jí ní sī |
| Four-leaf clover | 四叶草 | sì yè cǎo |
| Three-leaf clover | 三叶草 | sān yè cǎo |
| Leprechaun | 拉布列康 | lā bù liè kāng |
| Parade | 游行 | yóu xíng |
| Rainbow | 彩虹 | cǎi hóng |
| Potato | 土豆 | tǔ dòu |
| Meat | 肉 | ròu |
China's Celebration
Now you can put into the practice the new words you have learnt!
QUICK QUIZ | Do you remember how to say Ireland in Chinese or St. Patricks Day?
What is St. Patrick's Day in China like? – have you ever celebrated this day in China? if so, comment down below and share your experience with us! We would love to hear.
Parades in China are a regular occurrence.
Typically organized by the Irish Embassy and local expats – it's a day of celebration.
Indeed, the Ambassador of Ireland in China stated in 2019:
"St Patrick's Day is a time of celebration in Ireland and for all those of Irish descent and affinity around the world. In a significant gesture of friendship and solidarity by the Chinese authorities toward the Irish people, the City Administration of Beijing and the Yanqing District Authorities once again honor us with permission to green one of the greatest icons in the world."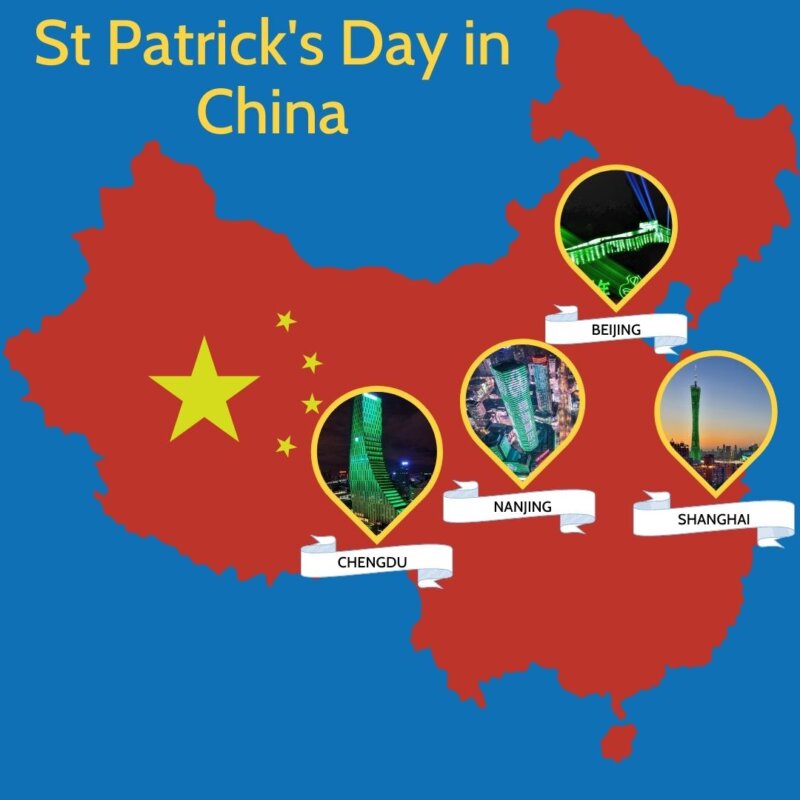 Can you guess what the Ambassdor was referring too?
Yes – you guessed it! The Great Wall of China.
Last year for the sixth time, many landmarks around China and The Great Wall, turned green!
If you happen to be around in China on St. Patrick's Day, here are some suggestions of local pubs you can visit to celebrate this day!
If you happen to be in Beijing be sure to check out Paddy O'Shea's annual celebration event in Chaoyang or The Red Dog pub in Sanlitun!
Similarly, if you happen to be in Shanghai, be sure to check out the Abbey Road annual celebration event on Taojiang Road or Logan's Punch pub in the Jing'an District.
We wish you a Happy St. Patrick's Day in China!
St. Patricks Day in China – FAQ's
When is St. Patricks Day?

17th of March or 3月17日 (3 yuè 17 rì) in Chinese.
What is St. Patrick's Day in China like?

Fun!

Just like Ireland you can attend parades and go to the pub for an Irish Beer!
Do Chinese people celebrate St. Patrick's Day in China?

Yes – St. Patrick's Day is celebrated worldwide and China too has in recent years joined in the celebration
How do you say Ireland in Chinese?

Ireland in Chinese is 爱尔兰 (ài'ěrlán)
How do you say St. Patrick's Day in Chinese?

St Patrick's Day in Chinese is 圣帕特里克节 (shèng pàtèlǐkè jié)
If I work as an English teacher in China, do I St. Patrick's Day off?

St. Patricks day is, in theory, just another day in China, but it will depend on your situation at the company you work for.