The Ultimate Guide 🏖 8 (Great) Things To Do In Beihai
Complete Guide of Things To Do In Beihai
In a country full of huge cities, Beihai is quite little compared to most.
In fact, you ask a group of Chinese people where Beihai is, most will have never even heard of it!
However, we are delighted that we know this place because it's a hidden gem.
Located perfectly on the south coast, Beihai boasts the best weather and air in the entire country.
However, Beihai's biggest draw is its beaches.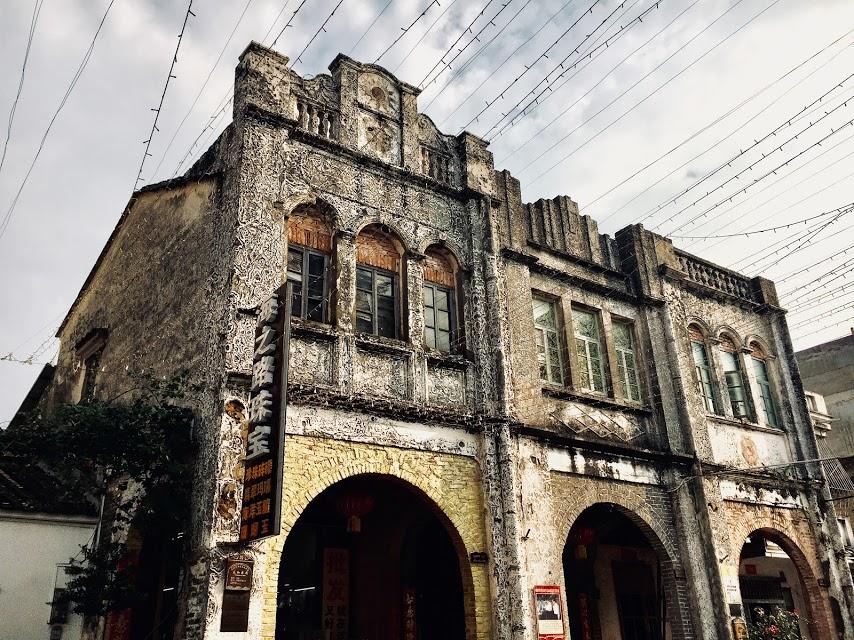 When you think of China and beaches, you don't normally think world class. But wait…
Sanya is a name that pops up mostly, located on the south of Hainan island, it is the most southern point of China.
However, Sanya has become incredibly touristy in recent years.
WE CANNOT STATE THIS ENOUGH – Beihai does not suffer the same fate.
With stunning scenery and hot weather all year round. The Silver Beach of Beihai, for example, is a much more pleasant experience if you wish to skip all the crowds. And let's face it, China does crowds like no other nation!
This is one of just a number of great things to do in Beihai.
Anyway… rather than talk solely about beaches, let's give you a rundown of some of the best things to do in Beihai which include activities, day trips and great places to get food and drinks!
Things to do in Beihai || Visit Silver Beach

Things to do in Beihai || Visit Beihai Old Town

Things to do in Beihai || Sample Chinese Cuisine at Local Restaurants

Things to do in Beihai || Grab some Italian at La Dolce Vita

Things to do in Beihai || Escape the Sun in Beihai Underworld

Things to do in Beihai || Study Chinese at Houze Chef

Things to do in Beihai || Spend a Weekend at Weizhou Island

Things to do in Beihai || Study Chinese on the Beach

Things to do in Beihai || FAQs
Things to do in Beihai #1 || Visit Silver Beach
It's worth the journey to Beihai alone. Silver Beach, China's best beach!
We said pretty much everything about Silver Beach we needed to on our Beaches in China page. Pristine, hot and beautiful all year round.
It is without doubt the number one attraction in Beihai. The beautiful long stretch of beach, white sands and a calm atmosphere being the reasons why.
Get stuck into some water sports, ride quad bikes across the sand, kick back on a sun lounger, grab a beach side beer and tuck into some local cuisine.
So check out our Beaches in China page for more on visiting Silver Beach.
Dreamy!
Things to do in Beihai #2 || Visit Beihai Old Town
Another one of Beihai's biggest draw cards is the old town which is called 北海老城 (literally Beihai Old City)
Famed for it's old style colonial buildings, the Beihai Old Town is a charming place to visit day or night.
北海老城 is the original site of the first western trades in Beihai meaning you get a unique mix of China and Europe in one long street.
Old Town is littered with tourist shops (lots selling Vietnamese style goods 越南特产 due to it's close proximity with Vietnam), little vendors selling Pearl and street food plus bars/coffee shops.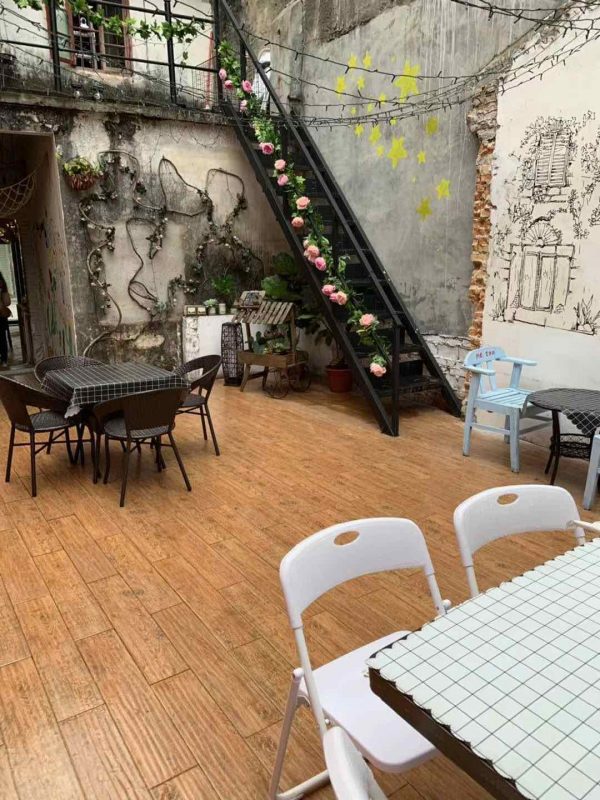 Worth a visit day or night you'll find some nice cute places where you can sit, grab a coffee or a beer and read a book or even study Chinese.
Beihai Old Town is certainly one of the most famous elements of Beihai so we recommend a couple of visits here.
Once in the daytime to get a feel for it during more relaxed times in the sun, and one during the evening when it can be slightly livelier and you can enjoy a beer under the lights of a nice little street-side bar.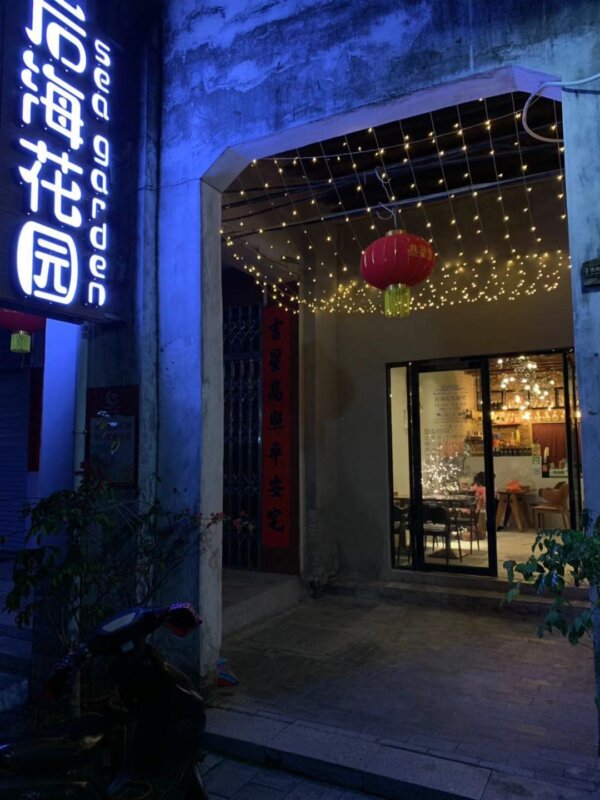 LOCATION – Beihai Old Town is located towards the North of Beihai on a long stretch of road that runs horizontally across the city. Check out our map below to find out how to get there from your hotel/apartment or homestay.
Things to do in Beihai #3 || Sample Local Cuisine
There is far more than just seafood on offer in Beihai.
Beihai actually has a strong 东北 (north-eastern) contingent, presumably wanting to escape the cold and tough winters up north.
Due to this you'll come across many restaurants which provide 东北 cuisine (just a look at the restaurant name outside will confirm this).
Famed for it's boiled dumplings 水饺 (the pinyin is actually the same as the word to sleep 睡觉, so be careful with your tones here), you'll find these, along with plenty of other types of Chinese cuisine all over the city.
BE CAREFUL – Pretty much every restaurant in Beihai DOES NOT have pinyin on the menu so get yourself clued up on your Chinese foods.
TOP TIP – Learn the characters of the foods you like most, and if you have any food allergy's, or you are a Vegan for example, know how to say these things. You will not get away with using English, even relying on the Pinyin in these places.
That said, they are a fantastic place to practice your Chinese and the locals are genuinely fascinated to hear a foreigner speak their lingo.
It's likely even just a Ni Hao 你好 will see you greeted with "Ah, your Mandarin is so great!" (啊你的普通话很厉害)
You'll find Sichuan and Chongqing cuisine (for the spice lovers), North Eastern as already mentioned, along with Beijing's famed Duck and of course the local delicacy, Seafood!
Things to do in Beihai #4 || Grab some Italian at La Dolce Vita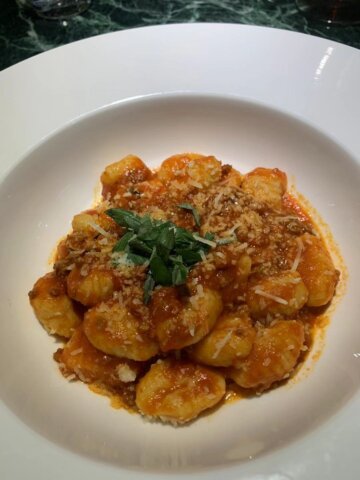 If you are in need of a break from seafood and local dishes La Dolce Vita is the ideal place to head to.
Authentic Italian cuisine is hard to come by in China's smaller cities. Many claim to be Italian, but are not.
Thankfully, that is not the case here.
Managed by a Venezuelan with Italian parents (who also live in Beihai), this is proper Italian cuisine which hits you instantly when looking through the menu.
Pasta, Gnocchi, Pizza and even the bread to start on the house
It's not local Chinese food, but everyone wants some familiar comforts every now and again and La Dolce Vita is a great place to go for just that.
LOCATION – La Dolce Vita in Beihai is located on the 4th floor of Beihai's Ning Chun Cheng 宁春城 Shopping Mall on the rather large Beijing Road 北京路
The mall also includes one of Beihai's only Starbucks and a number of other International brands.
👉👉👉 Check out their Tripadvisor page for visitor reviews.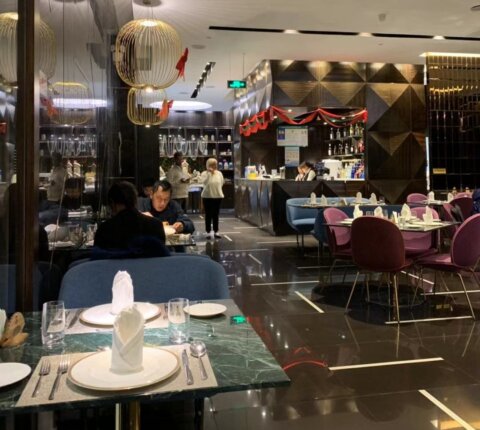 Things to do in Beihai #5 – Beihai Underworld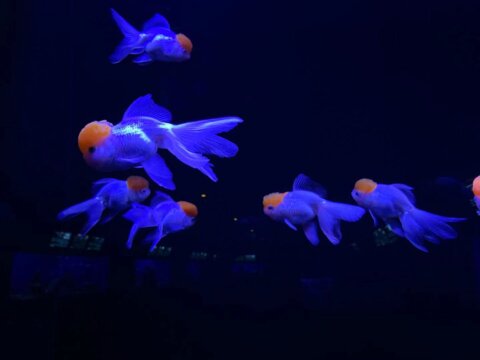 If you need a break from the Sun or just been hugely unlucky (like me) and been caught in one of Beihai's few rainy days, visit Beihai Underworld for an afternoon.
Actually more than just an Underwater world (there is a reptile section also) this is well worth visiting for a couple of hours and puts you right up close with some of the most fascinating looking fishy's you'll come across!
WHAT WILL I SEE? – Jellyfish, Catfish, and huge, rather intimating looking Morays!
Located conveniently not far from the Beihai Old Town, we advise perhaps two hours inside.
Split into a number of rooms which include Turtle Island and Devil Ray Island there's plenty of underwater world to come into close contact with.
There's even a number of shows that take place which you can observe from different floors!
Address – 27 Chating Rd, Haicheng 茶亭路27号海城区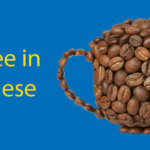 Coffee in Chinese ☕️ A Complete Guide to Ordering a Cup of Joe in China
Do you know how to order a coffee in Chinese? Well luckily for you LTL has a complete guide of how to order all your favourite types of coffee!
Things to do in Beihai #6 || Study Chinese at Houze Chef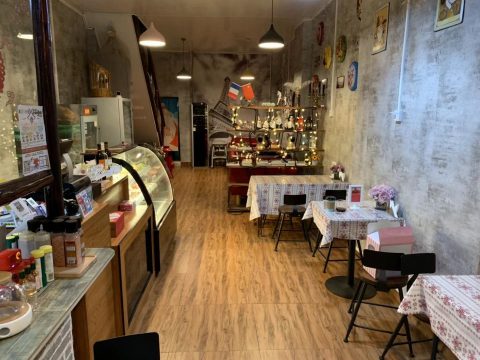 Houze Cafe is another example of a great place to escape and enjoy some quiet time with your Chinese books.
If you are after some chilled out things to do in Beihai, out of the Sun, add this to your list.
Get reading, studying or even just relaxing with this cute and quaint little cafe located just outside of Beihai's Old Town.
Inspired by France, and with a French owner (so we believe anyway), you'll find an Eiffel Tower splashed across the back wall and very well priced drinks compared to that of the big cities.
A coffee in Beijing or Shanghai would set you back at least 30CNY generally, not at Houze Chef!
You can even grab a beer for a little over 1USD/GBP.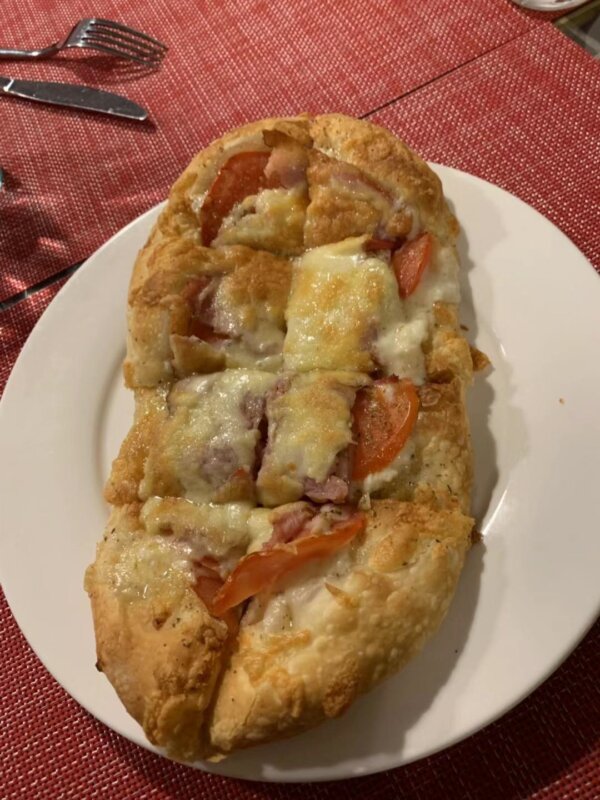 The menu is more western driven than local so again, it's a place to go if you want a break from the usual rice, noodles and seafood you can find on every corner of the city!
Location – No.59 Zhongshan Middle Road, Beihai, China 中山中路59号北海市中国
They are rated well on Tripadvisor if you wish to see and read more
Things to do in Beihai #7 || Visit Weizhou Island
Weizhou Island deserves two days of your time to fully appreciate what's on offer.
Out of all the things to do in Beihai, this might just top the list!
Located just over 20 nautical miles south of the mainland city of Beihai, there are roughly three ferries that run daily to and from the island.
DID YOU KNOW – Weizhou Island 涠洲岛 is the largest volcanic island in China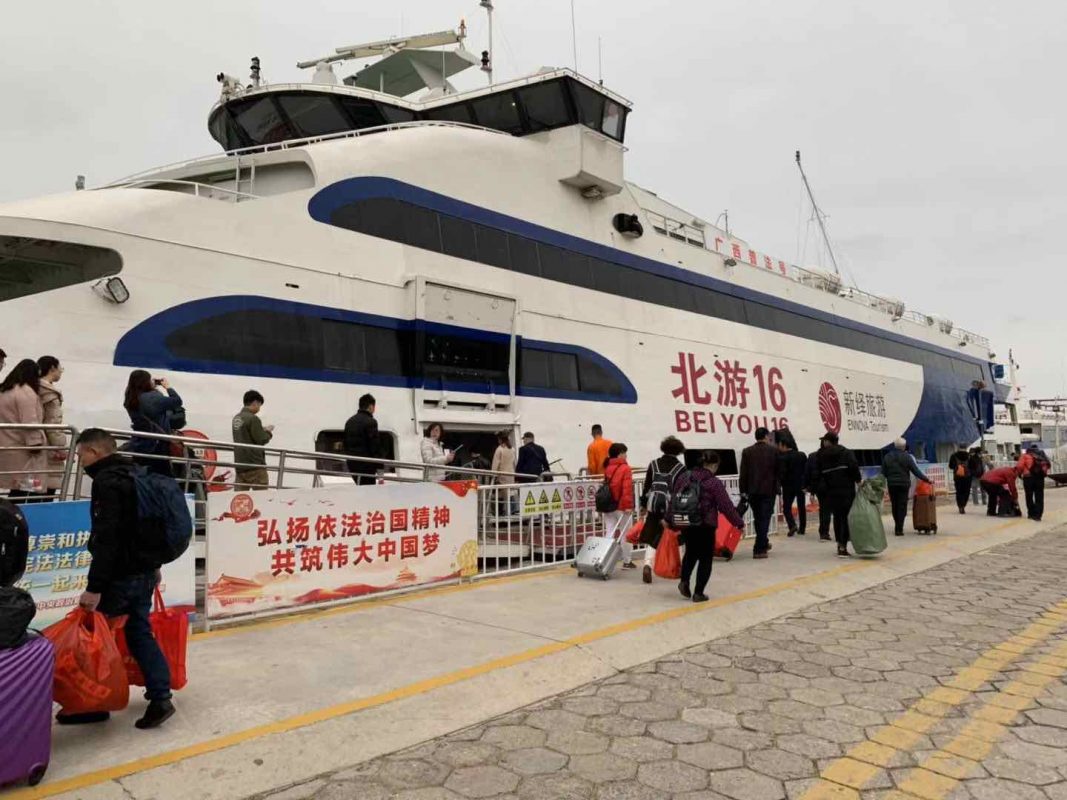 The ferry to Weizhou Island takes just over and hour and the earliest time you'll be able to arrive is just after 9.30am. Given that the latest ferry home is 6pm that leaves you about 8 hours if you wish to complete the trip in a day.
This is why we recommend giving Weizhou Island a weekend, or even better (for crowds) a Monday and Tuesday for example.
Weizhou Island is home to a number of popular attractions, including Crocodile Hill, Shiluokou Beach and an old Catholic Church to name but a few.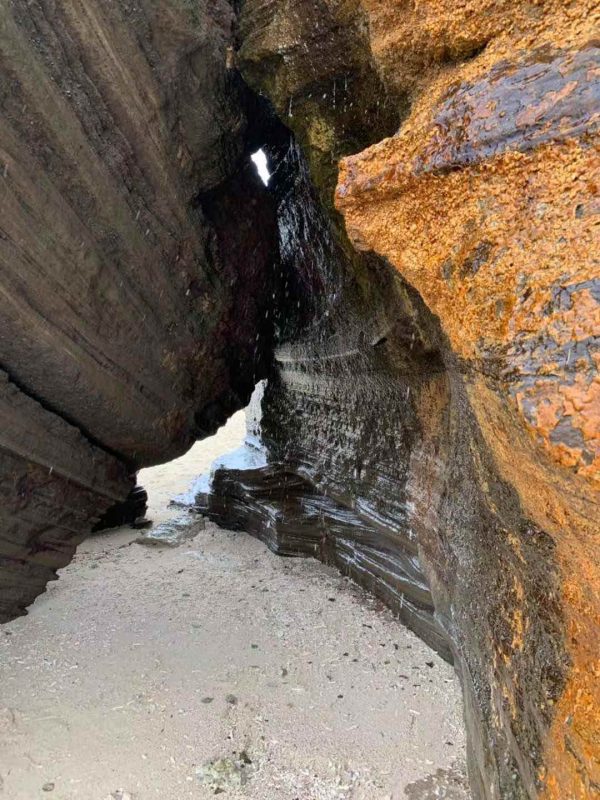 Travelling around Weizhou is probably best done by renting a scooter/bike. Between attractions is generally too far to walk and other than this you will be mostly reliant on taxi's, although there are buses that run around the island also.
Taxi's are still cheap if you wish to do it this way and there are also men on little buggies driving tourists around the island all the time.
Upon arriving to Weizhou we'd recommend heading straight down to the southern tip of the island to visit the Crocodile Crater Park (鳄鱼火山口公园).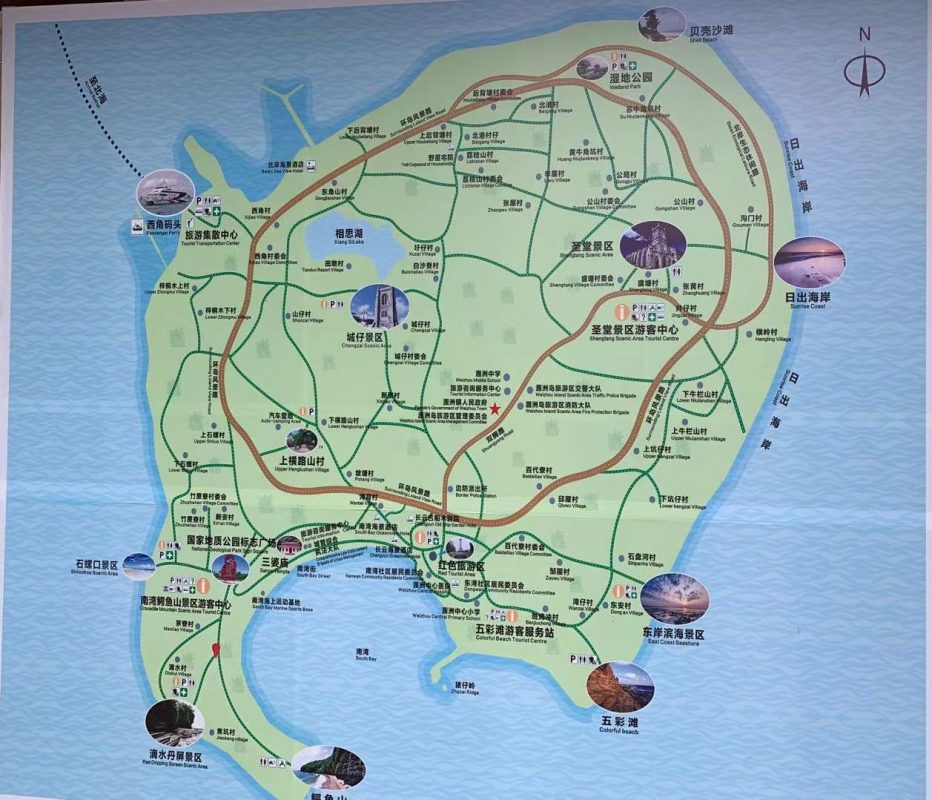 From 鳄鱼火山口公园, you can work your way up to Shiluokou Beach, and then make your way around the remainder of the island, doing as you please.
Heading over to the east side, you'll be treated to Colourful Beach. On the right day (more often than not in Weizhou), you'll enjoy a quite beautiful sunrise here. There are plenty of local food stalls around also so you can get your hands on some of the local food treats.
Stay for a night, and give yourself more time to delve into this wonderful, and rather unknown gem in China.
Things to do in Beihai #8 || Study Chinese on the Beach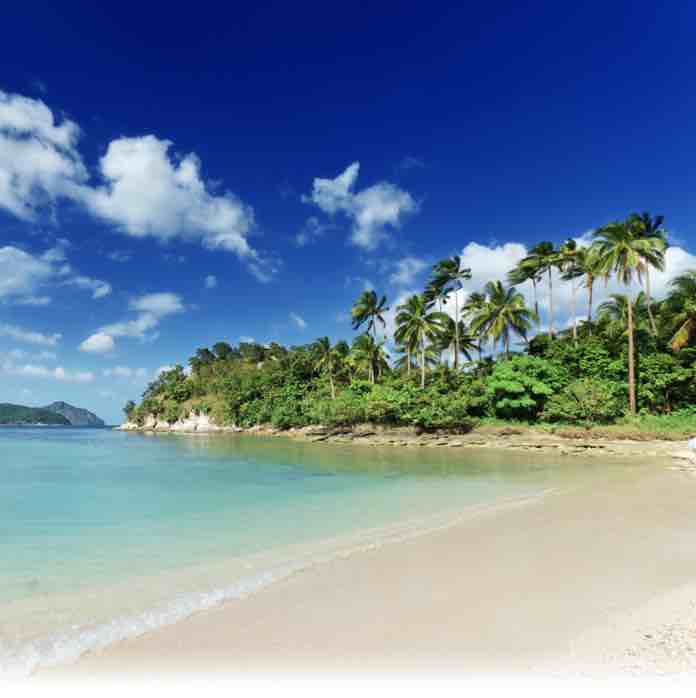 We kind of have to say it don't we…!
Opened in 2019 we are the very first Mandarin school to come to Beihai and we are delighted to do so.
Beijing and Shanghai are great but what do Beihai have they do not?
Beaches
Hot Weather all year round
The best air in the country
LOTS of Seafood
Barely a foreigner in sight
On my first visit to Beihai I sighted my first foreigner(s) on day 3, an old couple cycling down nearby Old Town.
After that, on day 5, ironically as we left for the airport, we saw our 2nd.
120 hours, 3 foreigners! Says it all, right?
Anyway, studying Chinese is a long old process… it doesn't come overnight, but what better place to delve into your books and apps than on the beach in beautiful heat with a great backdrop.
Quite the life…!
Conclusion
Beihai offers something for everyone. Hikes, Beaches, Bars, Fine Cuisine… you've got it all.
Come to this hidden Chinese gem, avoid the tourists who flock to Sanya beach and delve into real China!
---
FAQs About Beihai
What is Beihai?

Beihai is a city on the south coast of China based in Guangxi Province.
What is the population of Beihai?

Beihai (as of 2010) has a population of just over 1.5 million people.
What is the weather like in Beihai?

Beihai enjoys mild to warm winters and hot summers generally. The temperature all year round is warm, which is why many Chinese nationals from the far colder north have moved down to the south coastal city of Beihai.

Rain is common in Beihai and at its peak from June to September. In fact 70% of the annual rainfall in Beihai occurs during these months
How many districts are there in Beihai?

Beihai is split into 3 districts and a county:

Haicheng District – 海城区

Yinhai District – 银海区

Tieshangang District – 铁山港区)

Hepu County – 合浦县
What are the Chinese characters for Beihai?

北海 Běihǎi. Interestingly it takes the first character from Beijing and the second character from Shanghai, China's two biggest cities.

Equally interestingly, the city is named the same in Chinese as Hokkaido, the most northern Japanese island which is spelt 北海道 Běihǎi dào
Is Mandarin spoken in Beihai?

Yes, but dialects will vary throughout the city.

Given the fact many north-easterners 东北人 have migrated south, the Mandarin influence is strong.

The locals speak a different dialect and with the city's population growing and people moving from all over China, the dialects and accents will be somewhat varied.
What is the 3 letter airport code for Beihai and does it support international flights?

Beihai Airport is BHY.

Beihai only serves domestic Chinese flights and Hong Kong currently.